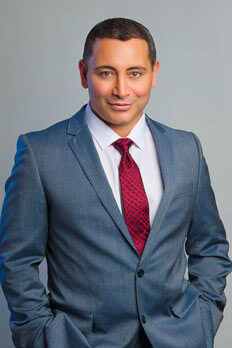 Mayo Clinic trained expert Roman Rayham M.D. is Double Board Certified by the American Board of Plastic and Reconstructive Surgery as well as The American Board of Surgery.
Dr. Rayham's main area of interest is Aesthetic/Cosmetic Plastic Surgery of the Face, Breast, and Body. His patients have been drawn from various regions of the United States of America and the entire world. He also offers non-surgical rejuvenation for the face and neck, including laser treatments, Botox®, and Cosmetic® injections.
Dr. Rayham, is recognized by his mentors, peers, and students as a surgeon with artistic vision and excellent technical skills. He has a wide area of expertise in General Surgery, Plastic and Reconstructive Surgery, and Aesthetic/Cosmetic Plastic Surgery. He has been involved in resident and medical student training while working in New York and at Mayo Clinic. Dr. Rayham participated in missionary trips to underdeveloped countries to provide care and operate on congenital deformities.
Dr. Rayham is fluent in English and Russian. He lives in the Sheepshead Bay area of Brooklyn with his wife and two children.
Boards and Society Memberships:
American Board of Plastic Surgery
American Board of Surgery
American Medical Association
Medical Society of the State of New York
Medical Society of Kings County
Arnold Society
Priestley Society
Dr. Rayham has received his undergraduate education at Brooklyn College located in New York. He completed four years of Medical School and received an MD degree from the State University of New York, Brooklyn Downstate campus. Following graduation, he underwent five years of extensive and vigorous residency training in the field of General Surgery at Staten Island University Hospital. Upon completion, he was admitted to the prestigious and world-famous Mayo Clinic in Rochester, Minnesota, where he was trained in the field of Plastic and Reconstructive Surgery. During his Mayo Clinic experience, Dr. Rayham has worked with some of the world's most famous experts in all fields of Plastic and Reconstructive Surgery. Following the completion of training at Mayo Clinic, Dr. Rayham was selected to receive an additional year of post-graduate fellowship training in the field of Aesthetic/Cosmetic Plastic Surgery at New York Eye and Ear Infirmary under the direction of some of the most prominent authorities in the field of Aesthetic Plastic Surgery.